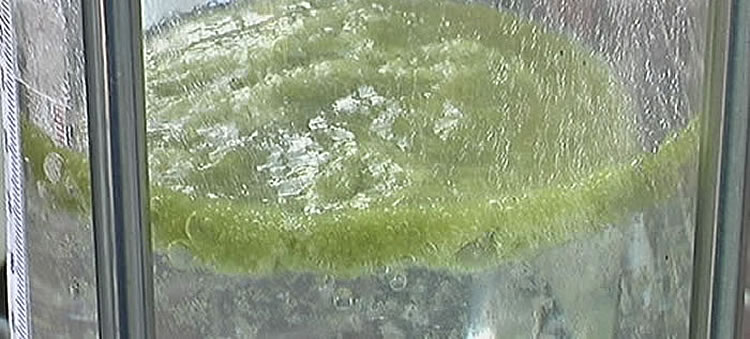 Fine bubbles are negatively charged, and dust, plastic, oil, etc. can be floated and separated by their adhesion, adsorption power and buoyancy. In addition, in aquariums and land-based aquaculture, they can be used as protein skimmers because it can be adsorbed to bubbles and separated by floating,
The OK nozzle is also used in Sunshine Ikebukuro (aquarium).
Main application examples related to Floating separation
Floating separation experiment of plastic powder
Using 7L/min OK Nozzle at a plastic fabricating company
The specific gravity of plastic
is larger than water and is negatively charged

In ten minutes, almost 100% plastic powder floated on the water.
Experiment results
①In ten minutes, almost 100% plastic powder floated on the water.
②Almost 100% powder was separated by floatation. Also, we discovered/found out when stopping the generation of fine bubbles, more than half of the powder sinks back again.
③The plastic powder which stays sinking at the bottom is nearly the size of 1mm.
④The mechanism of floatation is considered to be due to positive-potential substances (organic substances and pollutants) gather around the negative-potential fine bubbles, and negative-potential plastic powder gathers on those positive-potentials.