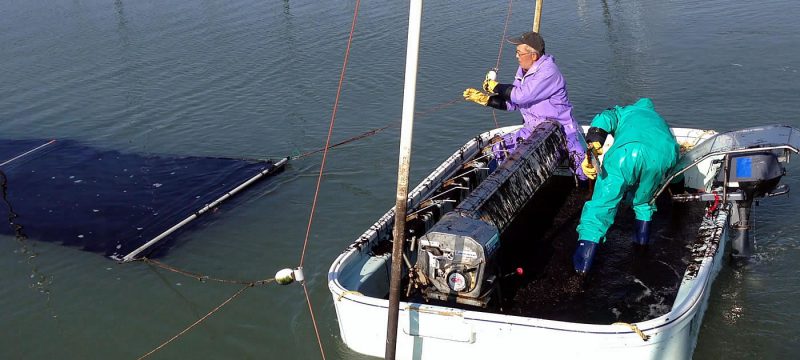 The fine bubble can stabilize the dissolved oxygen concentration.
In addition, although the mechanism has not been elucidated, the mortality rate of seafood can be reduced by activating organisms and microorganisms by ultrafine bubbles (nano bubbles), which is also effective in shortening the time until shipment.
Main achievements in the aquacultural field
●Using 7L~1200L/min OK Nozzle
● Fish preserve — Squid, crab, fish, clams and other shellfish, bream preserve on the fishing boat
● Aquaculture — Nori, flatfish, eel, shellfish: scallop, tiger prawn, shrimp: whiteleg shrimp, prawn, black tiger prawn, crab
Main application examples in the aquacultural field
Nori Seaweed cultivation in the Ariake Sea (using 100L/min OK Nozzle) 
Nori seaweed picking scenery off the Yabe River in Yanagawa City, Ariake Sea
For the first time in the world, abundant fishing due to the fine bubble generation in the seaweed fishing grounds! Also, there is little discoloration. 
Using fine bubbles in the entire process of seaweed production
| | |
| --- | --- |
| Fine bubbles in seaweed fishing ground | Fine bubbles for pickling |
| | |
| --- | --- |
| Seeding | Seeding |
| | |
| --- | --- |
| Roughly mincing the seaweed | Laver sheet-forming process |
Nori seaweed cultivation in Ariake Sea (PDF)
Flounder farming in Jeju Island, South Korea (using 300L/min OK Nozzle)
●The amount of seawater in all culture ponds is 1000 m³
● 300L/min OK Nozzle is used
● The self-in-taken gas is oxygen
Do level is determined almost in proportion to the amount of self-in-taken oxygen, therefore it can be easily controlled.
Jeju Island sand bottom flounder farming coverage

Using 300L/min OK nozzle with oxygen
Computer management of dissolved oxygen and hydrogen

Drainage: Do level 6.8PPM Pond: Do level 9.1PPM Water temperature: 18 ℃
300L / min OK Nozzle installation site

OK Nozzle is installed to some of the pumped underground seawater to make it into oxygen fine bubble seawater.
Data comparison before and after OK Nozzle installation
Flounder farming in Jeju Island, South Korea (using 1200L/min OK nozzle)
Oxygen dissolution system using [large OK Nozzle: MB1,200] at a flounder breeding farm in Jeju island
① The total water area of the farm is about 25,000m2
② The plan is to let one MB1,200L nozzle cover the water area of approximately 8,000 to 10,000M2
| | |
| --- | --- |
| MB1,200 nozzle and 7.5HP pump | 0400 PE Pipes |
Fine bubbles for Asari clam culture
Using 100L/min OK Nozzle. Six nozzles in total.
| | |
| --- | --- |
| | ①Immediately after the fine bubble was generated, dirt surfaced to the extent that workers disliked it. One nozzle was used for this tank. The excrement that had been accumulated at the bottom of the water tank is now gone. It has become so clean that it does not need to be cleaned. |
②Made new water tanks adapting to the usage of fine bubbles.
③Ammonia concentration decreased extremely.
④With fine bubbles, strong clams live longer, dead ones open their shells and in few days the shellfish-bodies disappear.
Sea water analysis results of Asari clam culture water tank
Analysis datas of water quality
15t Water tank
| | | |
| --- | --- | --- |
| | Concentration | Evaluation |
| Ammonia | 0.0mg/L | 1 |
| Nitrous acid | 0.0mg/L | 1 |
| Nitrate | 50mg/L | 4 |
| Phosphorus | 2.0mg/L | 5 |
| PH7.5 | | |
10t Water tank
| | | |
| --- | --- | --- |
| | Concentration | Evaluation |
| Ammonia | 0.0mg/L | 1 |
| Nitrous acid | 0.5mg/L | 2 |
| Nitrate | 100mg/L | 5 |
| Phosphorus | 2.0mg/L | 5 |
| PH7.5 | | |
Evaluation: 1 means no problem and 5 being problematic