What is fine bubble?
Fine bubbles are bubbles with a diameter of less than 0.1 mm. In June 2017, it was decided by the international standard ISO-TC281.
What is microbubble?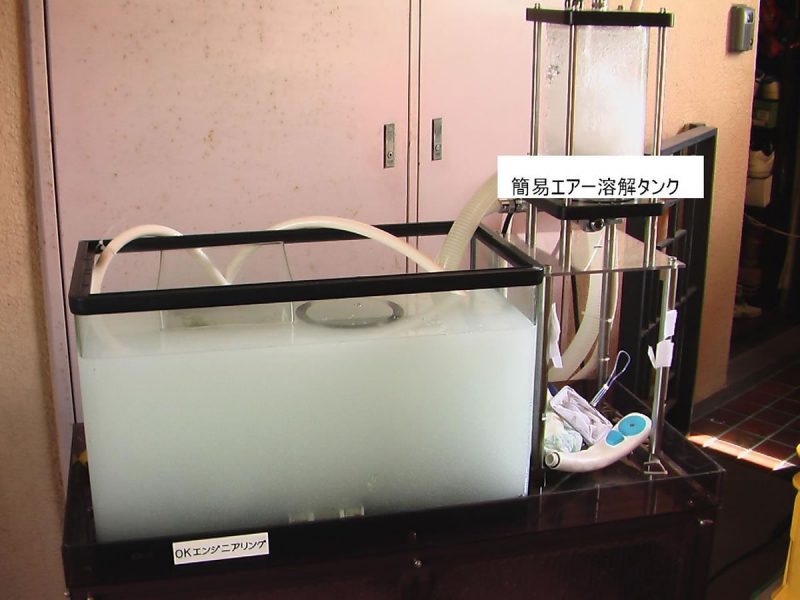 Microbubbles are very tiny bubbles. Bubbles with a bubble diameter of 1 μm to less than 100 μm are called microbubbles. Bubbles with a diameter of less than 1 μm are called ultra-fine-bubbles (nano bubbles). (1 μm is 1/1000 mm)
In June 2017, the name was stipulated in the international standard. Microbubbles and ultra-fine- bubbles (nanobubbles) are now collectively called fine bubbles. Fine bubbles look more like "white turbidity" than "bubbles" as long as seen by human eyes. The amount of gas contained in the water determines the concentration. For example, if you use this new-type nozzle (Photo 1) to inject water that has sufficiently dissolved gas in a pressurized dissolution tank (0.4MPa = 4kg / cm²), it will turn white like milk (photo). In the case of tap water, it looks like "white pale turbidity". If left untreated, it will return to its original clear water in 3 to 7 minutes. The hot water from the water heater becomes cloudier than tap water.
Features of microbubbles
Microbubbles are defined by international standards as "1 μm or more and less than 100 μm". (1 μm = 1 mm / 1000)
The peak of the microbubble diameter is several tens of μm. It depends on the generation method and conditions.
Microbubbles are visible. However, if it is 5 μm or less, it will be difficult to see.
Microbubbles are negatively charged. By that, various effects are exhibited.
The lifespan of microbubbles is several minutes to several tens of minutes in fresh water. It depends on the bubble diameter.
They increase the dissolution of gas.
Microbubbles rise and most of them burst on the surface of the water and escape into the atmosphere.
When microbubbles are generated at high water pressure, there is a high possibility of degassing, in which gas escapes from the water.
Researches and Applications of microbubbles
Research on microbubbles has been carried out at the laboratory level for about 20 years, but now research on the function and characteristics of microbubbles has begun in various fields such as environment, food, medicine, and industry. The properties of microbubbles are being elucidated.
Microbubbles became known to the public after the broadcast of "Microbubbles and oyster farming" on NHK in 2000. The red tide damaged oyster farming in Hiroshima, and microbubbles were used as a countermeasure. At this time, oysters grow twice as fast as a large by-product, and it takes two years to ship normally, but it ships in one year. It was reported that "Waka" (soft, juicy and very tasty) has been revived for the first time in 30 years.
In the field of aquaculture, it is widely used for oysters, scallops, pearls, prawns, and eels. Microbubbles are not only for aquaculture, but also for sterilization and cleaning of oysters, fish preserves, aquarium, hydroponics, baths, water purification, measures against water-bloom, various oil floating separations, washing machines, deodorization, medical related, reducing resistance of ships, etc.

Mechanism of microbubble generation and existing nozzle
There are about 10 types of micro-bubble generation mechanisms, but there are roughly 3 types that use "nozzles".
(1) Swirl flow method in which water is swirled and sheared
(2) Turbulence method that shears by turbulence represented by venturi tube
(3) Pressurized dissolution method in which the gas dissolved by pressurization generates bubbles using a nozzle.
Practically, the cavitation and crushing mechanisms are working. The "OK Nozzle" developed by our company is a complex multi-stage turbulent flow method : loop flow method.
What is Ultra Fine Bubble (Nano Bubble)?
| | |
| --- | --- |
| | Bubbles with a bubble diameter of less than 1 μm are called ultra-fine-bubbles (nano bubbles). (1 μm is 1/1000 mm) In June 2017, the ultra-fine-bubble diameter was stipulated in the international standard. Ultra-fine-bubbles are invisible to the naked eye, but can be confirmed by irradiating a laser beam. Inside of the water tank (photo) is water 30 minutes after the fine bubble generation stoped, and the inside of the beaker is tap water immediately after drawing. You can see that the fine bubbles are reflected by the beam in the water tank. |
Features of Ultra-fine-bubbles (nanobubble)
Usually, 500nm or less is called UFB. (Japan)
The peak of the bubble diameter is around 110 nm.
The peak diameter is almost the same for both OK nozzles and devices from other manufacturers. (1nm = μm / 1000)
Not visible. Currently there is a measuring instrument so it can be measured.
You can easily see it with laser light. (See the photo above)
The bubble is negatively charged.
In fresh water in the atmosphere, bubbles have a lifespan of a few days. They drift in the movement of water without floating.
If the storage condition is good, it will exist for several months to a year.
If you increase the purity of ultrapure water, you will not be able to measure UFB as it becomes difficult to exist.