High efficiency of UFB (nano bubbles) generation.
Features and application of Loop flow OK Nozzle (PDF)
Features of loop flow OK Nozzle
1) High efficiency of UFB (nano bubble) generation
480 million UFB (nano bubbles) / mL

2) Simple design only needed to be attached to the pipe


3) Can be manufactured from ultra-small to large size

● Achievements: 60mL ~ 1200L / min

● We are good at making special orders
How it works
In general, the nozzle design takes advantage of turbulent vortex formation that occurs in water wherever it flows through an abrupt change in pipe diameter. Introducing air into any such vortex will produce the most bubbles in the flow.
The key is to control bubble size and density formed in the vortex. OK Nozzle has patented a design that precisely shapes, stages, and combines the air intake and gradation of pipe diameter to induce and maximize fine bubble formation.
Through years of research and experimentation, OK Nozzle has developed principles of design that deliver the finest bubbles at the highest densities. Especially effective design strategies include distributing air intake throughout the circumference of the nozzle and inducing a kind of vortex we call "loop flow" in multiple stages within the nozzle.
Structure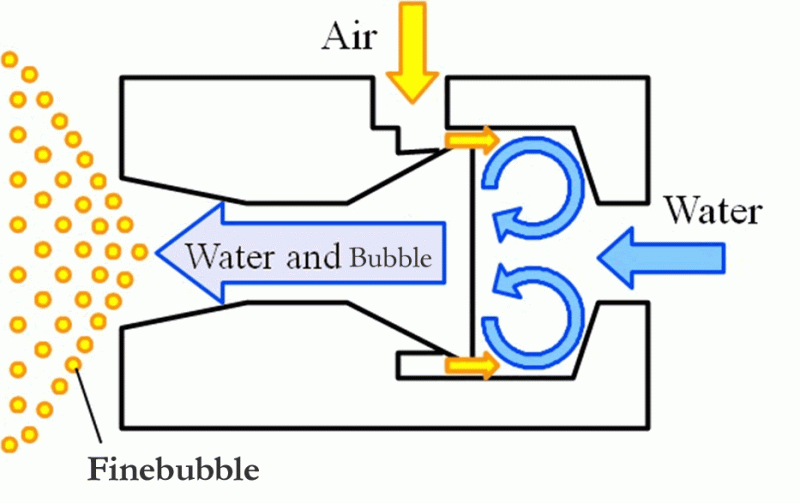 UFB (ultra fine bubble) production is achieved through highly calibrated precision shaping of the chambers where air and turbulent flow are mixed. The simplified illustration above shows the basic positioning relationships of the chambers. Within the chambers of OK Nozzle's patented design, however, there are actually several very precise stages required to achieve UFB output.