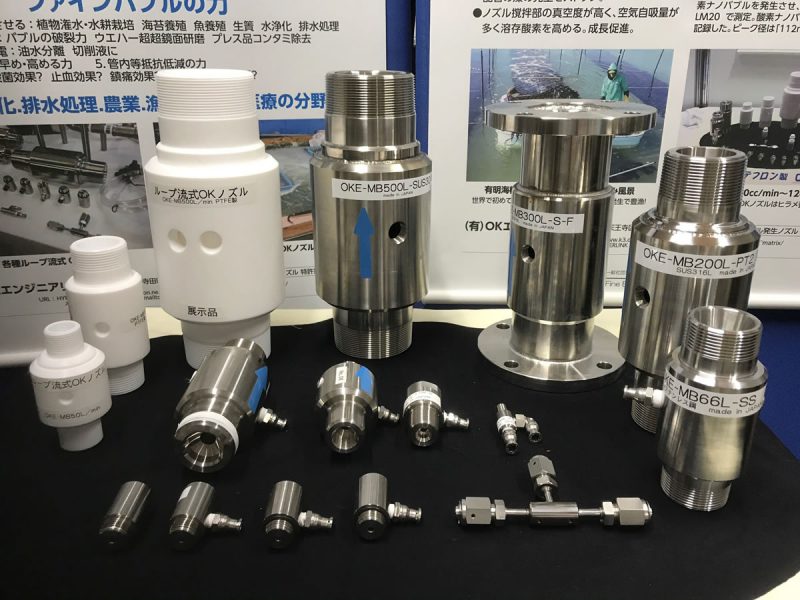 We manufacture special order OK Nozzles (nozzles that generate fine bubbles) that match your needs.
We have a track record of discharge rate of 60 mL / min to 1200 L / min. We can manufacture custom made nozzles according to the water pressure, shape, usage, etc., as well as the discharge amount.
Usually SUS316L is used, but Teflon (PTFE) is also available.
Currently, there are over 100 types.
Special order nozzle manufacturing example
Special OK Nozzle for waste water treatment (100L/min)
| | |
| --- | --- |
| | Two 100L/min fine bubble generation nozzles was delivered to the wastewater treatment of a food maker in Shikoku. After a while, we received a message from them telling us the installation was completed and as a result the oxygen deficiency which was their main problem had solved all at once. BOD 10,000PPM became 100PPM or less, demonstrating that BOD reduction effect is large. |
Special order nozzle for small flow (500cc/min)
This is 500cc/min Nozzle with small quantity of flow.
When the water pressure was 0.15MPa, the discharging amount was 410mL/min. Seemed like it was necessary to increase the degree of vacuum as the generation amount was relatively small when you need certain amount of generation. We adjusted the degree of vacuum inside the nozzle's agitation part to be as high as -0.09MPa, then it resulted in increasing the bubble generation a little more. As you can see in this photo, there are extremely small bubbles coming out from the nozzle.