Loop flow OK nozzle for draft beer now on sale
– For the server's self-cleaning function
–For the mellower beer–
| | |
| --- | --- |
| Fine bubbles rising for a long time | OK nozzle for draft beer |
This fine bubble generating OK nozzle exclusively for draft beer was developed over three years from 2014 with a Japan's national manufacturing subsidized project. At first the purpose of this nozzle was to let the fine bubbles self-clean the draft beer server but also as a by-product, the beer became "mellower". We presume that the cause of the mellowness is the ultra-fine bubbles (nano bubbles). Please see the "Product" page in https://oknozzle.com/ for details. This nozzle has been on sale since April 2019.
1) Examining the amount of CO2 (CO2 measuring instrument for beer by Anton Paar)
2) Tube cleaning experiment
3) Photo showing how easy it is to install the nozzle
Obtained a patent on March 15, 2019. (Patent No. 6492386)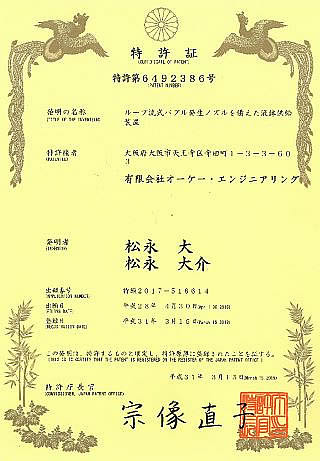 Finding out why the beer become mellower and more delicious
In order to know why the fine bubbles make draft beer so much mellower, we asked AIST­ (National Institute of Advanced Industrial Science and Technology) for the further research. They examined the status of the beer by a floating comparison using "Pocky" (Chocolate snack sold as "MIKADO" in western countries), a foaming comparison using "Mentos" and an analysis with an electron microscope. Also, photos with an electron microscope were taken and it was obvious that there is a certain change in the beer when fine bubbles are taken in. Here, we will show you the floating amount comparison using "Pocky".